Customised solutions using top quality products

We offer a wide range of services and are specialists in standard exhaust replacement, performance upgrades and custom exhaust work. Our accomplished and capable team advise and implement services to aid your vehicle's power, performance, sound and fuel economy.
Our large range of products and accessories provides many options, all designed to gain more performance from your vehicle. We have extensive product knowledge, which we use to create the perfect solution for you. Below are some examples of products we use and recommend. Detailed information and online purchasing available in our shop.
Standard replacement systems
High performance and custom built systems
Mandrel bent and press bent systems
Mild steel and stainless steel systems
Hi flow metallic and ceramic cat converters
Canon style and polished stainless steel mufflers
Products
We guarantee reliability and excellence by using the highest quality materials along with leading, dependable brands.
Catalytic converters
Playing a major role in reducing exhaust pollutants like carbon monoxide, hydrocarbons and nitric oxides from your vehicle, the correct catalytic converter can also increase the flow in your exhaust, resulting in improved car performance and fuel economy.
Headers / extractors
We're often asked about the difference between headers and extractors. It's simply semantics. Extractor is the term used in Australia, and header is more commonly used in America. Designed to remove the exhaust gasses from the motor with more efficiency than the standard cast manifold design, extractors are available for most makes and models.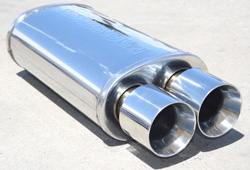 Universal mufflers / sports mufflers
A muffler's primary purpose is to help reduce the amount of noice produced by your vehicle's engine, but it can also play a role in your vehicle's overall performance. The choice of available mufflers is extremely extensive. We can help you decide the best muffler to suit your requirements.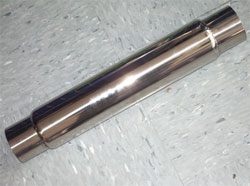 Resonators
Also known as Hot Dogs, resonators are small round or oval straight through mufflers, which are designed to take the edge or resonance out of the exhaust system and greatly reduce noise levels. Baffled versions are available to keep the noise down to a legal level.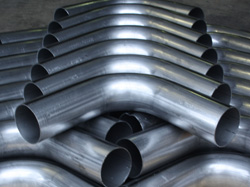 Bends
We stock a large range of universal mandrel bends, ranging in size from 25mm (1") to 102mm (4"),
in both mild and stainless steel. Our standard in-stock angles are 30, 45, 90 and 180. Our on site mandrel bending machines enable us to create any angle to order with fast turnaround.
.